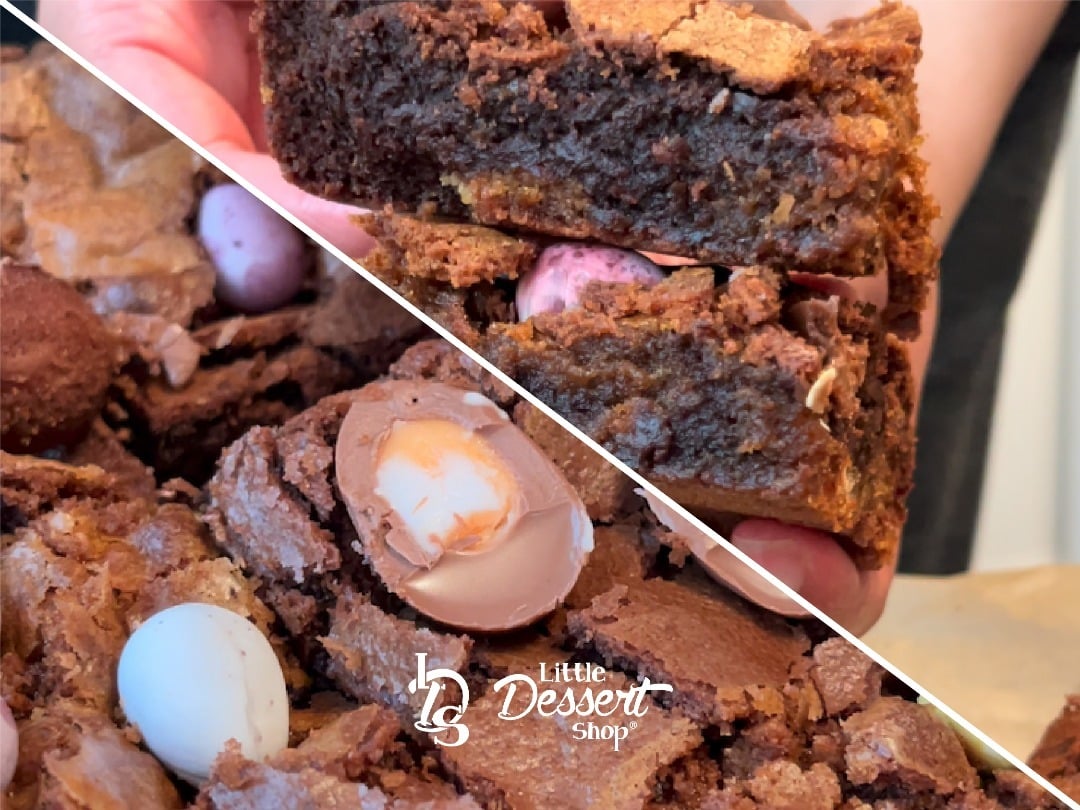 Mini Egg & Creme Egg
by Simran Mall
Published: 23:53, 1 Apr 2021| Updated: 0:08, 2 Apr 2021
---
---
The most incredible gooey blondie/brownie swirl bakes by Little Dessert Shop!
Get your aprons out and preheat the oven dessert fans because we have perfected the best blondie/brownie (or Brondie) for you to enjoy this Easter!
Combining two of our classic recipes we have created a full-proof recipe to help you celebrate Easter in Lockdown.
Don't forget to hashtag #BakewithLDS for a chance to win a £20 voucher and try our spectacular Easter collection featuring our Mini Egg Blondie and Creme Egg Brownie!


Ready, set, bake dessert lovers! (Or just curl up and order Little Dessert Shop…)
Ingredients for Brownie Mix.
185g Unsalted Butter
6 Mini Creme eggs (Unwrapped and chopped)
85g Plain Flour
40g Cocoa powder
50g White chocolate chunks
50g Milk Chocolate
3 Large Eggs
275g Golden Caster Sugar
(You will also need Creme eggs for decorating)




STEP 1
Cut 185g unsalted butter into small cubes and tip into a bowl and add the creme eggs to the bowl.
STEP 2
Heat in 20-second intervals in the microwave until the butter and chocolate are smooth and runny.
STEP 3
Turn the oven on to 180C/160C fan/gas 4 and allow it to preheat.
STEP 4
Line a shallow 20cm square tin with greaseproof paper (pro tip: Use a little butter to help it stick) Add 85g plain flour and 40g cocoa powder into a sieve held over a medium bowl. Ensure there are no lumps.
STEP 5
Chop 50g white chocolate and 50g milk chocolate into chunks.
STEP 6
Crack 3 large eggs into a large bowl and tip in 275g golden caster sugar and whisk in the eggs and sugar.
STEP 7
Pour the cooled chocolate mixture over the egg, then gently fold it together.
STEP 8
Hold the sieve over the bowl of the eggy chocolate mixture and resift the cocoa and flour mixture into the eggy chocolate batter.
STEP 9
Gently fold in the powder until fully incorporated.
STEP 10
Finally, stir in the white chocolate chunks until they're dotted throughout.

Set the brownie mix aside and begin working on the blondie mix.

Ingredients for Blondie Mix.

230g Unsalted butter

340g dark brown sugar

Pinch of salt

1 tsp vanilla extract

2 large eggs

280g plain flour

½ tsp bicarbonate of soda

1 tsp baking powder

240g white chocolate, chopped into small chunks

(You will also need Mini Eggs for Decorating)

STEP 1

Melt the butter in a saucepan or microwave and whisk in the sugar and salt and add the vanilla extract and whisk until fully incorporated.

STEP 2

Add the eggs to the butter mixture and stir well. Sift the flour, bicarbonate of soda and

baking powder into a large bowl, then whisk in the egg and butter mixture a little at a

time. (It's important to do this in stages so that you don't get any lumps. This recipe is a labour of love so take your time!)

STEP 3

Leave the mixture to cool slightly, then fold in the chocolate chunks.

(If the mixture is too hot, the chocolate will melt.)

Create the Brownie Blondie mix!

STEP ONE

Using your square tin lined with greaseproof paper, begin to spoon in the brownie and blondie mix. Alternate between box mixes in a uniform line. (it should look like a chessboard)

STEP TWO

Using a sharp skewer or cocktail stick (You could also use a sharp knife) going back and forth creating a marble effect and slightly mixing the brownie and blondie mix together.

STEP THREE

Bake in the now preheated oven for 30 - 40 mins (Or when you can stab a knife through the middle and it comes out clean with no wet batter.

STEP FOUR

Whilst the batter is still hot, press in Mini Creme Eggs and Mini Eggs into the hot mix and remove from the tin. Allow the brownies to cool fully before cutting.

AND ENJOY!

(If this recipe goes horribly wrong and you discover baking just isn't for you… Don't forget… You can order our incredible Easter collection right here from our website!)

Happy Baking Dessert Lovers!
---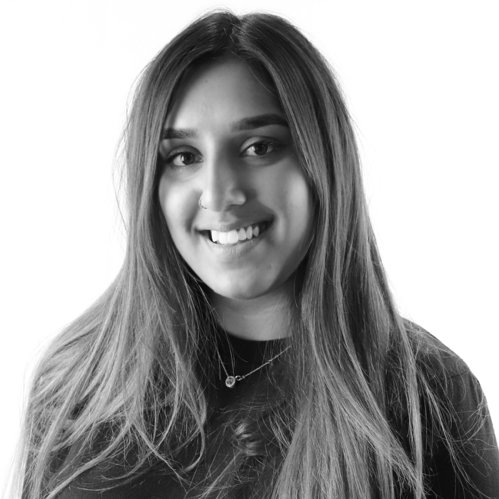 Simran Mall
Simran studied English & Creative writing at Staffordshire University and writes creative content for MSZ brands for Little Dessert Shop.
---